I know, I know On Trend Tuesdays is suppose to be where we discuss a great item for your closet that is super trendy. But what do you want from me?! How am I suppose to choose when everything from Kathleen Barnes at Carrie Bradshaw Lied is on trend!! I can't pick one thing... There's too much to choose from. Listen, I love me a good fashion & lifestyle blog, but when it focuses on timeless, trendy and affordable fashion pieces, done! You've got me, hook line and sinker. I've been a fan of CBL for awhile now and I thought I needed to profess my love for all to hear. And of course, learn a thing or two in the process from the fashion guru herself. Prepare to girl crush, hard.....
A transplant from Mississippi, Kathleen lives in Southern California with her husband, Christian, adorable pooch Bailey and kitty Lula LaShonda (yes you read that right). Carrie Bradshaw Lied started five years ago after Kathleen graduated college (a proud Ole Miss alum) and realized post-grad life was not all what Carrie Bradshaw promised it to be. It inspired her to create a place where she could share a peak into her own life, never thinking more than 20 people would read it. And here she is, five years later, dishing out all kinds of fashion goodness and lifestyle tips to the everyday gal. Now, on her site you can find all kinds of great content; but what got me first hooked on Kathleen's blog, was her fashion. Effortless, timeless, trendy, fashionable and more importantly, affordable.
Of course I took the opportunity to fire off a couple questions at Kathleen as I was curious to know a bit more about the gal behind the blog. And what I discovered was exactly what I expected. She's an everyday kinda chick; funny, charismatic, driven with a soft side. You can commonly find her gushing about her husband on her site (I can't say I blame her) or her animal babies, but she was quick to point out the other people in her life who help shape her. For instance, her three year old niece Edie who has a genetic disease that has left her severely handicapped. She beams that her niece has "changed the way I love and the way I view parenthood. I love that baby girl so much it hurts!"
Kathleen's blog is so much more than fashion. Despite working her regular "day job" she makes time for CBL because she is passionate about it and as a result, her blog comes from a place of loving what she does. She encourages anyone looking to start a blog to be sure they too are doing it from a place of love, inspiration and a desire to share with others.
She has learned lots about herself in her twenties, in becoming a wife and starting Carrie Bradshaw Lied. Advice she could easily give her 16 year old self, "Everything doesn't always work out perfectly according to your plan...and that ok. Dream big and don't let the bump along the way cloud your vision." She inspires her readers to reach a place of self acceptance and she does so by leading by example. She isn't afraid to put herself out there, in fact she credits this as her favorite quality about herself. In her words, "In order to achieve great things you have to be willing to fail, and failing is Ok." She references her favorite quote:
But see CBL keeps on winning for me. Maybe its her witty humor or relatability, I can't put the nail on the head. Let's be honest, its probably those impeccable fashion choices. Which once again brings me back to the fashion. I mean, it's more than fashion, it's self expression! Lets talk about it, shall we?!
Favorite look you have created?
Oh goodness – I don't know if I can name just one! I would say my favorite looks are the ones where I felt most confident because I look comfortable and happy. That being said, I'm always confident in a midi skirt and sky-high stilettos. I've had several midi skirts on the blog in the past year – I'm addicted.
What does fashion mean to you?
It's such an enormous way to express who you are. I think I show my personality in the way that I dress – loud, playful, (usually) put together with an occasional touch of sparkle.
What keeps you inspired?
Playing in my own closet and trying to create new outfits using pieces I already own. I've always felt maximizing your closet is key.
What should readers know about you?
That I don't take myself too seriously… and Carrie Bradshaw Lied is all about having some fun and taking affordable fashion risks while curating your closet with timeless staples. Join the party, guys!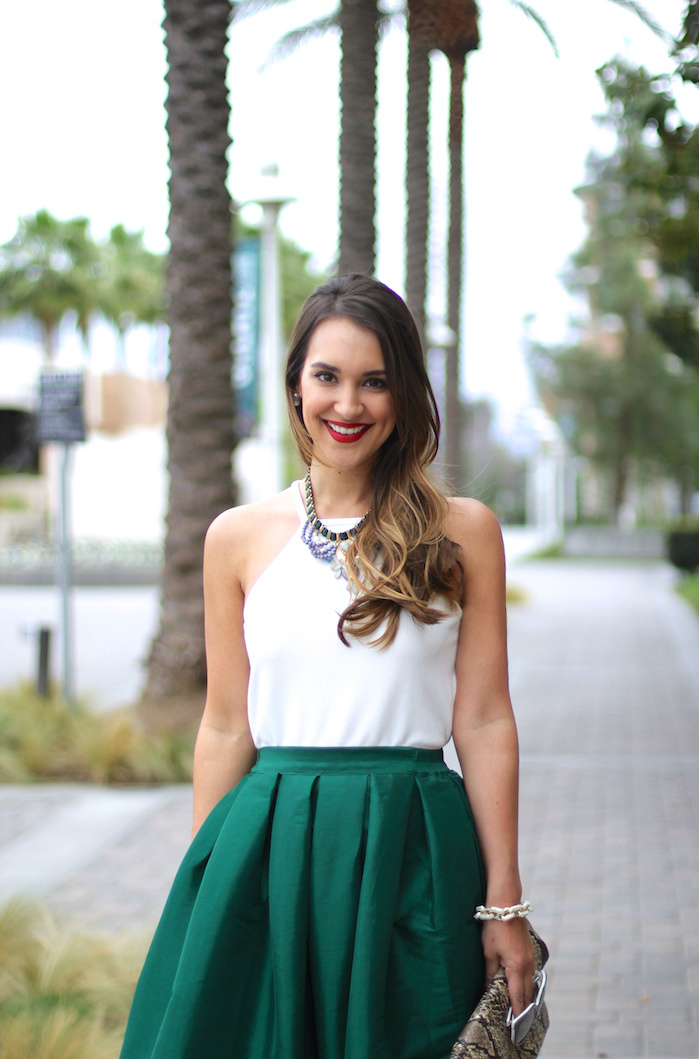 Megan Araujo is an entertainment professional with over 10 years of experience on stage, in front of the camera and behind the scenes. A graduate of San Jose State University, Megan earned her degree in Creative Arts before moving to Los Angeles.

This Northern California native is daughter to a professional crafter and party planner, so design and event production has always been second nature to her. It's no surprise that she wants to be wherever the good times roll (with gold glitter on hand, of course!)