My twenties are coming to an end and my birthday is swiftly approaching. I can see my 30s coming towards me not like a freight train about to barrel me over, but like the carousel that is already in full rotation and I got to find a way to jump on quick or I'll be left standing waiting for my next opportunity feeling like the kid that gets picked last, except its my own damn fault. In a life that is not how I pictured it, this is scary, but I have one consolation-- finally, I can unashamedly say out loud that I like exquisite foreign knives, fancy tumblers, expensive bowls, and beautiful hand crafted cutting boards.
Cue Water Margin Studios, spawned by a sister-brother duo inspired after a trip abroad as well as the wish to get back to their craftsman roots. Mei-ling and Jonathan Hubbard, desired to make something more than simply utilitarian; something highly functional, ergonomic, well made, exceptionally beautiful, and local. This led them to what other than kitchenware! Cutting boards and spurtles to be exact.
Spurtle: a flat wooden, spatula-like utensil. See below.
Water Margin Studios is located in the Los Angeles hills and one can often hear ACDC coming from the studio as Mei-ling and Jonathan design, carve, sand, and perfect their goods. The cutting boards are made in limited batches cut from the same plank of wood, each piece is unique with contrasting hardwood inlay placed to complement each boards grain. Then the finishing process begins, starting off with some sanding. "Are you hitting that with a 400?" Jonathan asks. "I'm gettin' it with 500" Mei-ling reports. Over a period of 3 days the pieces undergo a multi-stage washing, oiling, and sanding process. Attention to detail extends to the packaging. In keeping with Japanese aesthetics, Water Margin Studios wrap each piece in their hand-dyed shibori fabric.
Okay so what is this stuff really like? GLORIOUS. I asked to hold the brownie ax. At first touch I exclaimed, "Oh my god… this feels… great." Soft, easy to grasp, beautiful to all the senses. I felt whole-heartedly home.
And if you are as in love with these pieces as I am, keep your eye on Water Margin Studios. The siblings hope to further combine their skillsets to create slab furniture within the year.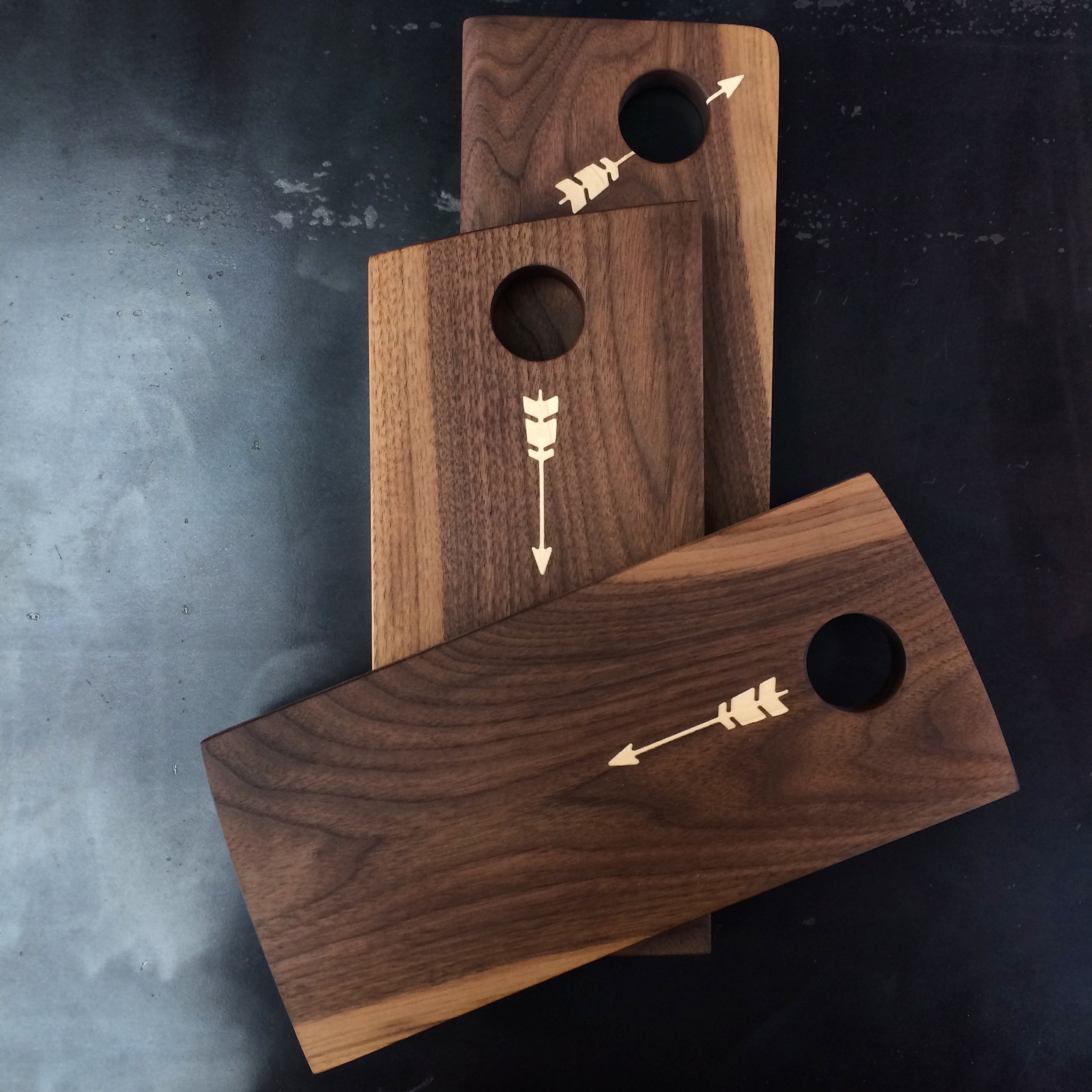 -------------------
GIVEAWAY INFO!
Do you want to get your hands on one of these beautiful pieces? Water Margin Studios is giving away not just one but TWO pieces (a cutting board and spurtle - a $145 value) to one lucky winner.
Head over to Instagram and do the following:
follow both @estcalifornia and @watermarginstudios.

repost the image on the left and tag some friends who would love these boards.

use #estgiveaway in your caption
US Residents Only. 18 years and older. Giveaway ends 11:59pm on Tuesday, January 13th. We will announce the winner on January 14th.