For anyone living in LA, or if you're thinking about coming to visit, check out The Line Hotel in Koreatown. Not only is there amazing food and great karaoke in the area, but Chef Roy Choi, known for Kogi Truck, A Frame, and Sunny Spot (to name a few), has really out done himself with the Food and Beverage aspect of the hotel.
The newest restaurant recently opened, Commissary, is definitely one to put on the to do list of where to eat next. On the second floor of the hotel, the restaurant is set up in a green house surrounded by beautiful plants, which sits next to an outdoor pool deck bordered with chairs and comfy couch seating. The concept is plant based but it's not all veggies, it's just what's highlighted. One can find a burger, or a steak, French dip and other fantastic eats.
Once seated, a menu is handed to me, and all that's shown are pictures of ingredients such as egg, lettuce, and scallops. After ordering, they surprise you with a dish featuring that ingredient that was chosen. It's a highly innovative way to do a menu and I'm sure some people may freak, but I enjoyed the new take on it . Since no descriptions are given of the food creations, diners must have complete trust that if the ingredient is liked, the dish created will be delicious. My favorite dishes were the carrots, scallops and eggs. It's tough to give descriptions being that there were none to go by on the menu, but the eggs were over medium and came with sauces that were delicious and really packed some heat. The prices are reasonable with a steak being the highest price at $28.
The drinks were fabulous as well. I tried the blueberry, bourbon, cucumber, Peruvian black mint drink and it totally delivered. It was smoky yet refreshing. The White Peach cocktail with pisco was also very refreshing and perfectly sweet. Commissary is the best place to go right now to have a fruity delicious drink and then go to the pool on the deck and hang out to cool off with this September weather.
Commissary is now open seven days a week for breakfast, lunch and dinner from 7 a.m. to 11 p.m. With the beautiful and colorful space, it's hard not to enjoy a drink casually or go for a romantic dinner. Anyone can feel good about going there to have some veggies, a gin and juice and lay out by the pool.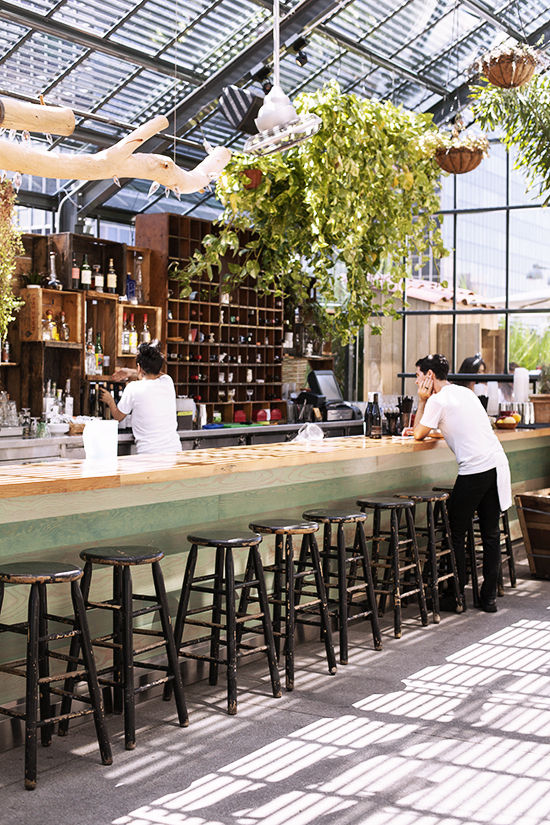 Keyla Vasconcellos is originally from Brazil and grew up in Virginia. When she moved to California, it immediately stole her heart. After attending Pepperdine University, she worked in restaurants where she grew to love all types of cuisines. She is aspiring to be a Gastronomist Extraordinaire by eating her way through Los Angeles and sharing her adventures with anyone who enjoys a delicious meal.